Description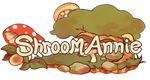 To take part of our lovely community, please join our
Discord!
By purchasing an Annie you agree to the
ToS.

Read more about the event here! ♥

DESIGNER
Day 7 | 2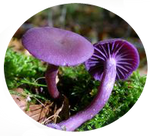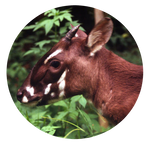 Blessing names:
Laccaria amethystina
(Amethyst Deceiver)
| Pseudoryx nghetinhensis
(Saola)
How many Blessings: 2
Rarity: Uncommon
Eyes: Common Round
Description of blessings and Annie:
Bright violet when wet, buff when dry, the
Amethyst Deceiver
earns its name for its difficulty in identification.
This little mycorrhizal mushroom, however, is strikingly vibrant; it has thick purple gills and a small cap that is either convex or flat.
Laccaria amethystina
produces spherical glass-like spores which bear relatively long spikes. It exists commonly in temperate forests.
The mushroom cap itself is edible with no distinctive taste or smell,
however, in arsenic-rich soils, the Deceiver can bioaccumulate high concentrations and become toxic.
Critically endangered, the
Saola
is first newly discovered large mammal in nearly 50 years. It was first sighted only 20 years ago!
Saola are recognized by two parallel pointed horns, which can reach 20 inches in length and are present in both males and females.
The bovid has striking white markings on the face; their silky, short fur is a dark chestnut brown in contrast to the markings.
Saola are found only in the Annamite Mountains of Vietnam and Laos although the total population number is unknown.
They are known as the Asian Unicorn due to their elusiveness.

Optional Personality:

Adorned with little trinkets and jewelry, this Annie is a mysterious yet playful one~

She enjoys observing others very closely, so her vast knowledge of others' behaviors and patterns make her seem almost magical.
Or at least, more magical than this strange one may be. She also loves collecting gems, precious bits and bobs, and brewing up various potions!
Although, if she ever offers you a strange looking vial, it may be better to have a sense of caution...

Image details
Image size
2288x2747px 3.63 MB