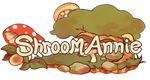 To take part of our lovely community, please join our
Discord!
By purchasing an Annie you agree to the
ToS.

Read more about the event here! ♥

How many Blessings: 1
Rarity: Common
Eyes: Common Round
Description of blessings and Annie:
Hydnellum peckii is a non-toxic species of fungi that is inedible due to its incredibly bitter taste.
They produce spores on their spines or grow tooth-like projections under their fruit bodies.
When fresh and moist, thick red fluid oozes out of the fruit bodies, giving it its striking appearance!
Extracts of this fungus contain an effective anticoagulant that also has antibacterial properties.
They are often used to create colour dyes, ranging from brown to shades of blue or green.
It is also known as the Devil's Tooth, strawberry and cream, the red-juice tooth, or the bleeding tooth fungus.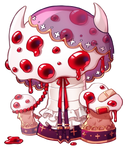 Optional Personality:

This peculiar Annie seems to like staying out of the sun, carrying a parasol wherever he goes to protect his sensitive skin.
He is prone to getting injured and can often be seen with multitudes of bandages wrapped around him.
The red bubbles on his horns and coat are prone to leaking when not handled with care;
the liquid that comes out is said to be effective at treating certain diseases though it has an unbearably bitter taste.
He often feels sad and when he cries, the tears are red like the fluid of his blessing.

EXTRA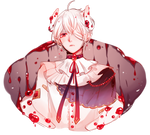 Image details
Image size
2000x2500px 2.63 MB