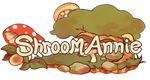 To take part of our lovely community, please join our
Discord!
By purchasing an Annie you agree to the
ToS.

Read more about the event here! ♥

How many Blessings: 1
Rarity: Common
Eyes: Common Round
Description of blessings and Annie:
Common puffball (Lycoperdon perlatum), also known as gem-studded puffball,
are one of the smaller puffball species ranging from about 3 to 10 cm (1.2 to 3.9 in) tall.
The nickname gem-studded puffball refers to the little pearl-like bumps on the top of the mushroom.
Puffball mushrooms are often found in grassland or woodland habitats, usually in groups.
They become inedible as they mature, as the top develops into a heap of brown powdery spores.
Careful not to step on it once mature! It'll release a smokey cloud of these spores if so.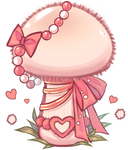 Optional Personality:

This Annie is very gentle and dainty. Her soft, cottony attire takes on the appearance of a puffball mushroom with autumn suiting colors.
She gets cold easily, so she layers on clothes to stay warm at all times. Her outfit has many patterns and her hood is shaped like cat ears at the top.
The jewelry she wears sparkles like dewdrops in the sun. She loves nature, and like her blessing, can often be found in grassy areas
enjoying the calming sounds of the environment around her.

Image details
Image size
1688x2349px 2.37 MB