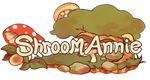 To take part of our lovely community, please join our
Discord!
By purchasing an Annie you agree to the
ToS.

Read more about the event here! ♥

How many Blessings: 1
Rarity: Common
Eyes: Common Round
Description of blessings and Annie:
Podoserpula Miranda, also known as Barbie pagoda fungus due to it's bright pink colour and tiered dress-like appearance,
is a type of fungus found in New Caledonia. Belonging to the Amylocorticiaceae family,
these fungi were only recently described with not too much information surrounding it.
Despite that, these mushrooms have captivated many with its beauty.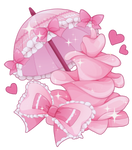 Optional Personality:

"And who might you be?" a soft voice calls.
Clad in layers of lacy pink frills, a young girl can be spotted walking along the garden path.
"What an ugly word fungus is.. I'd much rather be a flower..." she sighs wistfully, pruning the pink branches that sprouted from her head.
Although she saw her blessing as one of the more prettier types of fungus... she couldn't help but long for a blessing as pretty as a rose.
Giving her a quick glance you might have mistaken her blessing for a flower as well, but a visage can only hide her true nature for so long.

Image details
Image size
6285x6771px 18 MB