Shroomannie 2019 | Day 2|2
Description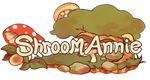 To take part of our lovely community, please join our
Discord!
By purchasing an Annie you agree to the
ToS.

Read more about the event here! ♥

How many Blessings: 1
Rarity: Common
Eyes: Common Round
Description of blessings and Annie:
The Lion's Mane ( Hericium erinaceus - for more scientific terms) is a safe to eat,
medicinal mushroom stemming from the tooth fungus family. They grow in parts of North America, Europe and Asia,
and can be easily identified from its' long spine like hairs that grow in clumps along the hardwood trees.
They can also protect against many things, such as dementia, reduce mild symptoms of anxiety and depression-
and can even help repair nerve damage.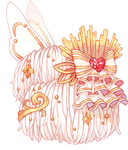 Optional Personality:

Pure elegance with each twirl, glide, leap and bow, this Annie prides herself in her ballet skills that amazes her audience each performance.
Dressed in pure whites and shimmering golds that dance around her tutu, she shines bright as a star on stage, with gentle movements to match.
She has a heart of gold that she wears proudly on her sleeve, and enjoys teaching others the ways of ballet,
as well in hopes of introducing others into the wonderful world of performance dance.


Image size
2841x2699px 3.36 MB