EXTRA
Clear reference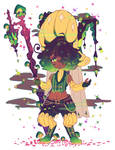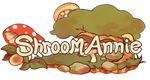 To take part of our lovely community, please join our
Discord!
By purchasing an Annie you agree to the
ToS.

Read more about the event here! ♥

DESIGNER

Day 10 | 2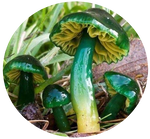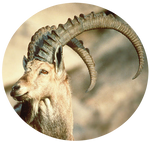 Blessing names:
Parrot Waxcap
(Gliophorus Psittacinus)
| Pyrenean Ibex
(Capra Pyrenaica Pyrenaica)
How many Blessings: 2
Rarity: Super Rare
Eyes: Flower iris
Description of blessings and Annie:
When they're young, the
Parrot Waxcap
is a deep green. As it ages, it gains a yellow or pinkish tinge to it.
They're widely distributed in grasslands, growing to be a fairly small size; despite its size and also being coated in a sticky substance,
it's listed as edible in some guides and in other guides as not edible. If one should eat this mushroom,
it's best not to consume more than 20 specimens to avoid gastrointestinal disorders.
This mushroom also fruits, but only during the late summer and autumn seasons.
The
Pyrenean Ibex
were one of the four species Ibex,
living in mountainous regions; their homes naturally being dangerous to their predators.
Typically they were anywhere from 1 to 5.5ft tall. Both male and female grew horns
, their horns being able to reach up to 5ft long while curving slightly behind them.
Because of their herbivorous diet, the low nutritional value contributed to them having to spend a good portion of their days eating.
Their extinction was most likely due to disease and poaching.
Optional Personality:

An unassuming and hospitable Annie that dwells deep within the darkest parts of uncanny forests.
He surrounds himself with everything sparkling and beautiful,
from broken shards of discarded luminescent glass to seemingly worthless,
yet gorgeous gemstones that shine under any light.
His mysterious aura emits mostly from his humble and alluring personality.
His love for travelling and exploring new areas makes it especially difficult to track him down or get to know him,
making his existence somewhat of an urban legend.
Image details
Image size
983x1120px 913.51 KB