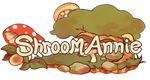 To take part of our lovely community, please join our
Discord!
By purchasing an Annie you agree to the
ToS.

Read more about the event here! ♥

How many Blessings: 1
Rarity: Common
Eyes: Common Round
Description of blessings and Annie:
Marasmius haematocephalus
are tiny mushrooms
(its hat has a range of 3 to 15 mm and its foot 20-50 × 0.2-0.5 mm).
Its cap is blood red with white spore print and its body is long and slender. Because of its size, they are usually overlooked.
However, they play an essential saprobic role in forest ecosystems, helping to break down the litter layer of the forest floor.
Despite their tiny size, this mushroom is a tough one. In dry conditions, they simply shrivel up to a hair thin stems with tiny caps and wait for the next rain.
This mushroom is also known for its
reviving
ability. This species is widely distributed in warm areas around the world.
They can grow on twigs, fallen leaves, and pieces of wood rotting, solitary or in a group.

Optional Personality:

This Annie is a small and bubbly girl. But don't ever call her that, because she will sulk for weeks!
She loves getting all the attention to herself.
And often act cutely with her big round eyes and being loud to get their eyes on her.
Even tho she looks really sweet with her pink appearance, she is actually very stubborn.
When she wants it, she will get it.
Will you be able to say no to her?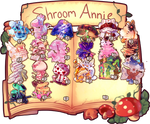 AUCTION STARTS AT 140$
SB: 140$
Min Increase: 5$
AB: 300$
Auction ends after 24H after last bid.


Image details
Image size
1236x1433px 1.51 MB