To take part of our lovely community, please join our Discord!
By purchasing an Annie you agree to the ToS.
Read more about the event here! ♥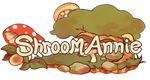 DESIGNER
Day 1 | 1
Blessing names: Mycena Interruptas
How many Blessings: 1
Rarity: Common
Eyes: Common round
Description of blessings and Annie:
Mycena interrupta, or commonly known as Pixie's parasol, is a small non bio luminescent mushroom.
The cap has a brilliant cyan blue color and is often sticky and appears slimy looking,
particularly in moist weather. Its' body is white and smooth, and the base is attached to the wood substrate by a flat white disk.
Even though this fragile mushroom, standing only seven millimeters tall can be toppled by a moderate breeze,
it produces powerful enzymes that break down both the cellulose and lignin contained in fallen woody debris.
The pixie's parasol appears in small colonies on and around fallen wood in rain forest or eucalypti forests.
They absorbs their energy from the sun and the moist trees and bark they tend to grow on.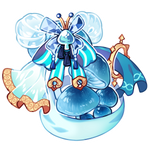 Optional Personality/backstory:
Mysterious and elegant, this Annie will captivate your heart with her beauty and dance skills!
Her moves are so graceful that it seems like she is floating on air!
People can't help but eventually fall in love with her.
Because of that, she was nicknamed "the fallen fairy"
She looks quite fierce and cold from the outside, but she actually has a warm heart once you get to know her.
She just has a hard time expressing her feelings, except with dancing.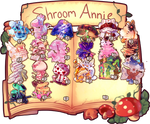 AUCTION STARTS AT 140$
SB: 140$
Min Increase: 5$
AB: 300$
Auction ends after 24H after last bid.
Image details
Image size
2291x1932px 2.77 MB