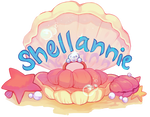 To take part of our lovely community, please join our
Discord!
By purchasing an Annie you agree to the
ToS.

Read more about the event here! ♥

DESIGNER

How many Blessings: 2
Rarity: Uncommon
Eyes:
Uncommon
Scallop Pupil
Description of blessings and Annie:
Description of blessings and Annie:

Annachlamys flabellata
is a type of scallop, thus apart of the mollusk species.
They are typically found in the shallow waters of northern Australia.
In terms of size range, they can grow can between 2.5in - 4in
(6-10cm)
!!
They are half-circular shape and are ribbed on the valves of the shell.
This mollusk is cream or white in color, with orange and pink-red stripes on the ribbed areas.
It is also a filter-feeder, meaning it draws water into itself and consumes the particles within that water,
then releases the filtered water! Smaller individuals are usually males, while larger are mostly females.
They can actually even change their biological sex through a process called sequential hermaphroditism!
The California Flying fish
is the largest subspecies of flying fish, growing up to a whopping 15in
(38cm)
long!
It is located in the Pacific Ocean, specifically the eastern part of it. Of course it does not actually fly,
but it can launch itself into the air and use its special fins to glide along the surface!!
These pectoral fins strongly resemble wings, which is what gives this fish its peculiar name.
This fish prefers to spend time in the open ocean areas, and only comes to shore to lay eggs.
The spirit of a true adventurer!!

Optional Personality:

She has hair that ends like swirling waves, and a ribbon that sways like sea water.
This girl is one who loves the ocean breeze, and has infinite curiosity.
Always wondering about what is in the depths of the endless ocean,
she decides to join a ship crew and become a sailor! She's no captain,
but an excellent lackey who follows orders accordingly.
She will do anything as long as it brings her closer to her home,
Image details
Image size
937x852px 1.12 MB