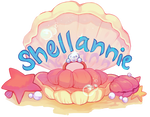 To take part of our lovely community, please join our
Discord!
By purchasing an Annie you agree to the
ToS.

Read more about the event here! ♥

DESIGNER

How many Blessings: 1
Rarity: Common
Eyes: Common round
Description of blessings and Annie:
Clibanarius tricolor is a hermit crab that lives in shallow water of the Caribbean Sea,
and is popular in the home aquarium trade. Its common names include blue-legged hermit crab,
tricolor hermit crab
Blue Leg Hermit Crab has blue legs with red banding,
This tiny crab make their homes out of abandoned snail shells or similar shells if available,
when no empty shells are available they will often kill a snail and takeover its shell.

Optional Personality:

"Do you like my earrings?! Oh thank you!
I can make one for you if you want!"
as generous as the sea this Annie likes making accessories and gifts them to others
you want to thank her in return? make sure the beach is clean and safe!
her home means everything for her 💞
Image details
Image size
2700x2500px 3.8 MB