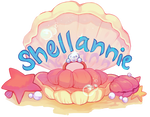 To take part of our lovely community, please join our
Discord!
By purchasing an Annie you agree to the
ToS.

Read more about the event here! ♥

DESIGNER

How many Blessings: 1
Rarity: Common
Eyes: Common round
Description of blessings and Annie:
The Pinctada Fucata or Akata-gai oyster, has a the common name of
Akoya Oyster
.
Like many other Oysters that produce pearls. It is native to the shallow waters in the Indo-Pacific region,
and is heavily used in the cultivation of pearls, especially colored ones. Like the name suggests,
the Akoya Oyster commonly lives in the salt water of Akoya, Japan!
For this reason it is also recognized as a Japanese Pearl.
It is one of the most imitated pearls,
due to its symmetrical spherical shape and pearl colors.
The colored pearl make it popular because it can create colors such as pink,
gold, cream, silver, blue, and even black!

Optional Personality:

This Annie has a oyster adorned design.
Her shells cover the delicate parts of her body,
while her beautiful white and cream pearl ornaments decorate her hair and outfit.
Throughout her design, she has swirling golden details that show off her elegance!
She also gives off pure mermaid vibes with her beautiful bright and transparent fabrics.
With her combined accessories and fabrics, this Annie has an aura of virtue, purity, and chastity.
This Annie is very innocent and very kind. She will do anything for your happiness!
If she ever catches you while you're sad, expect to receive a gleaming pearl bracelet from her to make you smile again! ♥
Image details
Image size
3329x3861px 5.17 MB