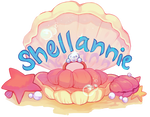 To take part of our lovely community, please join our
Discord!
By purchasing an Annie you agree to the
ToS.

Read more about the event here! ♥

DESIGNER

How many Blessings: 1
Rarity: Common
Eyes: Common round
Description of blessings and Annie:
In the spiny, colorful spicules of
Dendronephthya
soft coral, sometimes called "cotton candy corals",
lurks the gumdrop-sized
Hoplophrys oatesii,
clad like a warrior in colorful camouflaged spines.
Sometimes called the "candy crab", these marvelous little beasts will pinch off clumps of the soft coral,
and transplant them on their backs to add to their camouflage.
While they look fierce, they only grow to 20mm
(less than one inch)
across, and they are hiders, not fighters.

Optional Personality:

This little Annie has no fear in her garnet eyes.
Despite her blessing, she has no need to hide.
She doesn't use the spiky corals on her head as the camouflage anymore.
It's the opposite, she loves to shake with her luxurious braid,
and catch the light with those soft corals just to hear the amazed gasps of other Annies passing by.
Image details
Image size
1009x1186px 865.27 KB