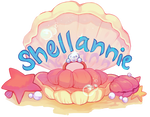 To take part of our lovely community, please join our
Discord!
By purchasing an Annie you agree to the
ToS.

Read more about the event here! ♥

DESIGNER

How many Blessings: 1
Rarity: Common
Eyes: Common round
Description of blessings and Annie:
The peacock mantis shrimp, (also known as harlequin mantis shrimp or clown mantis shrimp),
is one of the larger, more colourful mantis shrimps commonly seen, ranging in size from
3cm -18 cm.
They are primarily green in colour, with orange legs and leopard-like spots on the anterior carapace.
While they are very praised by some aquarists due to their colorful and vibrant appearance,
these small creatures are sometimes also considered harmful pests because they are voracious predators!
They feed mainly on fish, gastropods, crustaceans, and bivalves. With their strong club-shaped raptorial appendages,
they repeatedly smash its prey until they can gain access to the soft tasty insides.
The surface of said appendages is made up of extremely dense hydroxyapatite,
layered in a manner which is highly resistant to fracturing,
meaning they can even break the glass of aquarium tanks.

Optional Personality:

This Annie is as mischievous as she is small.
Being blessed by such a strange looking creature,
she soon learned how to use the weirdness to her own benefit.
She'll fool you with her childish appearance and oriental elegance,
and have you wrapped around her finger in mere seconds -or should we say claws?
Image details
Image size
721x850px 740.5 KB