To take part in our lovely community, please join our Discord!
By purchasing an Annie you agree to the
ToS
.

DESIGNER

Blessing Names: Basil leaf
How Many Blessings: 1
Rarity: Common
Eyes: Common round
Description of Blessings and Annie:


Basil comes in many different varieties and is most commonly used as flavoring for dishes found across the world.
It can come in many different shapes and sizes but is always a vibrant green color and grows soft white flowers.
The name translates to "Royal or Kingly plant" and is believed to have been used in perfumes at one point.
Like her blessing, this Annie has a hearty physic despite her small and petite stature.
She's not afraid to get her hands dirty and enjoys the fresh soil of the earth, her job
being that of a gatherer of sorts.
She knows plants and herbs like the back of her hand
and isn't afraid to point it out, whether you were asking or not.
AUCTION STARTS AT $180
SB: $180
Min Increase: $5
AB: $400
AB2: 600$


Auction ends after 24H after the last bid.


[AB2 includes a rough front sketch with reference sheet]
AB2 example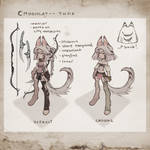 Anniverse website
|
Anniverse Discord
|
Anniverse Patreon
Image details
Image size
876x912px 1.05 MB