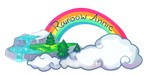 To take part of our lovely community, please join our
Discord!
By purchasing an Annie you agree to the
ToS.

Read more about the event here! ♥

DESIGNER

How many Blessings: 3
Rarity: Super Rare
Eyes: Super rare glowing snake pupils
Description of blessings and Annie:
The Ayam Cemani Rooster
is a very unique Indonesian chicken species,
as it has dark black pigmentation all around.
This pigment is not only on their surface feathers though,
they are pitch black all throughout their entire eternal body.
It has black skin, black meat, black bones, black beaks, black tongues,
and EVEN black organs which includes a pure black heart.
Their black feathers have a slight iridescent shine to them,
glittering in the sun with shiny purple and blue hues.
The meat from the Ayam Cemani is even said to have mystical power by some people.
They are one of the most expensive chicken breed in the world,
due to their exquisite uniqueness and hyper black pigmentation!
The Onyx Odyssey Helleborus
is a large black flower,
that sometimes has a purple-ish appearance.
It also has a slight blue shine to it in the light.
They are winter flowers, that bloom from the beginning of winter,
to the start of spring. Because of their blooming cycle,
they're called the nickname
"Winter Jewel."
They can grow up to a striking 12-15in
(30-37cm)
!
Eastern Indigo Snake
is a lovely jet black color all over,
with a slightly golden orange snout and cheeks. They're a large species,
about 4 to 8 feet long
(1.2-2.36m)
, but the largest recorded was 9.4 feet
(2.8m)
!
They have blue-black glossy scales, that look a blackish purple iridescent color in the light,
which is where they get the
"Eastern Indigo"
name. Their scientific name,
"Drymarchon couperi",
includes the meaning Lord or Ruler! Contrary to the behavior of other snakes, when killing prey,
the Eastern Indigo is known to violently beat their prey against large objects and bludgeon it to death.
They also flick their tongues out more often than other snakes. They hiss and shake their tails when defending themselves,
and are known to even eat other smaller snakes. An interesting fact about them is that sometimes, they will co-habit with Gopher Tortoises to share underground burrows!

Optional Personality:

This vicious goth queen slithers in with mighty strength that even a goddess would fear.
She has huge jet black hair curled all around her, and long draping sleeves lined with feathers at the end.
Forever moody, she has anger issues and broods all day long with her
festering
negative feelings.
She's the type to lash out, and take her anger out on you if caught in a bad mood, or even just for fun if she feels like it.
With a large black halo decoration and 4 scattered sets of wings, as well as large black flowers around her outfit,
she walks around knowing that she turns heads when she passes.
Her halo and thigh garter are adorned,
with accessories in the shaped like a rooster face from her
Ayam Cemani
blessing, with jewels looking like eyes an a beak.
She has a single snakeskin boot, snakeskin leotard, and snakeskin hair band all from her Eastern Indigo blessing.
Anger is truly all she knows, she often goes out just to look for trouble.
Some say that only a pure and beautiful maiden can calm her tumultuous
and literally pure black heart heart, if its even possible to cure her demented nature.
Thus you must be careful around her, if you don't do what she says,
she wont hesitate to kick you with with her razor sharp talon boots!
She rarely has to use her talons though, because with thighs as thick and strong hers,
her kicks alone can snap necks. ♡
AUCTION STARTS AT 200$
SB: 200$
Min Increase: 5$
AB: 600$
Auction ends after 24H after last bid.
Image details
Image size
3754x3584px 7.95 MB