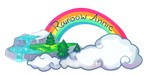 To take part of our lovely community, please join our
Discord!
By purchasing an Annie you agree to the
ToS.

Read more about the event here! ♥

DESIGNER
How many Blessings: 1
Rarity: Common
Eyes: Common round
Description of blessings and Annie:
The red-tailed black cockatoo
, also known as the Banks' black cockatoo,
originate from Australia and are usually found in eucalyptus forests.
They are sexually dimorphic, with the males usually being larger in size,
with brighter red panels on their tails,
and the females having speckled golden markings on their feathers.
These cockatoos usually feed in flocks, mostly eating seeds but also fruit, nectar, and sometimes insects.

Optional Personality:

This mysterious Annie is a bit of a bookworm, preferring the company of paper over other beings.
She loves painting, and it's rumored that she can even paint directly in the air!
Wherever she goes, tiny gold stars seem to orbit her, lighting up a room with her presence.
She is often in her own little world, daydreaming or gazing off into the stars,
pondering what lies beyond the sky.
AUCTION STARTS AT 140$
SB: 140$
Min Increase: 5$
AB: 300$
Auction ends after 24H after last bid.
Image details
Image size
2400x2000px 2.38 MB