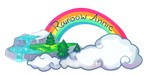 To take part of our lovely community, please join our
Discord!
By purchasing an Annie you agree to the
ToS.

Read more about the event here! ♥

DESIGNER

How many Blessings: 3
Rarity: Super Rare
Eyes: Uncommon heart shaped pupils
Description of blessings and Annie:
The Gardenia
is a beautiful flowering plant that is indigenous to tropical in Asia, Africa, Madagascar, and Pacific Islands.
These pretty flowers are known for their strong sweet scent and glossy leather like leaves that grow around them.
Be warned though, these flowers can be fussy and demand specific environments and care due to it's origination in humid tropical areas .
This elegant deer is called a
Sika Deer
, or commonly known as the Japanese Deer or Spotted Deer.
These creatures are originally from East Asia, but was later introduced into various parts of the world,
and are one of the few species of deer that don't lose their spots upon reaching maturity!
Though unlike many deer, these beauties aren't finicky around human heavy disturbances,
and are popular in Japan as the "bowing deer", who bow their heads to humans to be fed special cookies!
The
White tern
(Gygis alba)
is a small bird that is found all across the tropical oceans of the world.
They are considered a seabird due to their adaptation to life in the marine environment,
like nesting on coral islands. Unlike other terns who build nests on the ground,
there birds will lay eggs without a nest on small and thin branches.

Optional Personality:

From first glance, this beauty may look like the sorta of rarity that you admire from a distance,
as even the slightest breath her way could taint the pureness of this Annie's glowing existence.
But on the contrary my friend, as this Annie adores the presence of others around her,
and enjoys a full on and open-hearted conversation. This dark chocolate beauty is adorned,
in the most purest of whites and shiniest of golds, giving her a heavenly vibe.
She gives off a warm and gentle aurora that not only makes you feel relaxed while being around her,
but also making you feel airless from any negativity that may be plaguing you.
Be it sitting in her angelic presence in comforting silence, or caressing her large wings to ease your mind,
this sweet lady will always be there for you to soothe you, leaving you with a warm feeling in your chest.
AUCTION STARTS AT 200$
SB: 200$
Min Increase: 5$
AB: 600$
Auction ends after 24H after last bid.
Image details
Image size
3462x2602px 5.74 MB