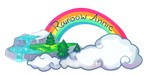 To take part of our lovely community, please join our
Discord!
By purchasing an Annie you agree to the
ToS.

Read more about the event here! ♥

DESIGNER
How many Blessings: 1
Rarity: Common
Eyes: Common
Description of blessings and Annie:
Delphinium
, more commonly known as larkspur, is a summer flower known for its height and illustriousness.
The name delphinium comes from a Greek word meaning dolphin, referring to the buds resembling a dolphin's nose.
The flower has many meanings, but is generally thought of as the flower of new experiences, positivity and youth,
and they're often used to communicate joy and encouragement. Especially white delphiniums are the symbol of youth,
renewal and new beginnings. The flower is also the official birth flower for July.

Optional Personality:

The Annie greets you with a mellow but slightly embarrassed expression on her face.
Though she might seem uncomfortable, she has a pure, shy heart which always seeks new friends.
Through her gentleness and her inspiring hope, she never fails to charm anyone who crosses her path!
However a little mysterious, this Annie seems like she is hiding more than just a gentle spirit -
even the most intuitive of Annies would be surprised to see her become a fierce protector whenever danger arises.
AUCTION STARTS AT 140$
SB: 140$
Min Increase: 5$
AB: 300$
Auction ends after 24H after last bid.
Image details
Image size
2730x3407px 7.65 MB