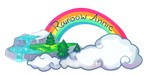 To take part of our lovely community, please join our
Discord!
By purchasing an Annie you agree to the
ToS.

Read more about the event here! ♥

DESIGNER
How many Blessings: 2
Rarity: Uncommon
Eyes: Common round
Description of blessings and Annie:
The black-footed ferret
has a long slender body with black outlines such as the feet,
ears, parts of the face and its tail. It is roughly the size of a mink.
Except for during the breeding season, the black-footed ferret is a solitary animal.
It is mostly nocturnal and spends most of its time underground.
They are very vocal and playful.
The Chilean bellflower
is a climber that can reach up to 33ft
(10m)
,
and climbs up shrubs and trees. Its leaves are evergreen,
grow in a pendant shape and have a waxy texture.
The flower has six petals that are deep pink or red in color on the outside,
and have white speckling on the inside. Beginning in the summer,
the Chilean bellflower maintains its blooms until the fall.
In the wild, they are pollinated by hummingbirds.

Optional Personality:

This Annie is very feminine and has soft ears, paws, and tail.
You will want to hug her when you meet her!
She enjoys having hummingbirds as her friends,
and will hides behind a tree/rock or in a hole when someone passes by.
Due to being accustomed alone, she becomes very shy and easily gets flustered,
when she first meet a new friend / stranger. But once you get closer to her,
she is actually a very playful, sweet, and lovable girl.
She really loves to hug her friends and is very loyal.
This Annie also has a healing power when she sings.
AUCTION STARTS AT 180$
SB: 180$
Min Increase: 5$
AB: 450$
Auction ends after 24H after last bid.
Image details
Image size
1910x1328px 9.69 MB