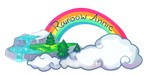 To take part of our lovely community, please join our
Discord!
By purchasing an Annie you agree to the
ToS.

Read more about the event here! ♥

DESIGNER

How many Blessings: 1
Rarity: Common
Eyes: Common round
Description of blessings and Annie:
The Primrose moth is named for eating evening primrose while in its caterpillar form.
It's forewings are a beautiful bright yellow and pink while the back ones are a soft white.
During the summer the adults fly at night and rest on their host plant during the day.


Optional Personality:

This small Annie appears as soft and shy as her blessing,
but give her a reason and she has no hesitation in standing up for herself!
True and loyal to her friends, this tiny girl will stand up to anyone, no matter their size.
AUCTION STARTS AT 140$
SB: 140$
Min Increase: 5$
AB: 300$
Auction ends after 24H after last bid.
Image details
Image size
2012x1838px 2.09 MB