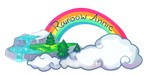 To take part of our lovely community, please join our
Discord!
By purchasing an Annie you agree to the
ToS.

Read more about the event here! ♥

DESIGNER

How many Blessings: 2
Rarity: Uncommon
Eyes: Common round
Description of blessings and Annie:
The Morpho Didius butterfly has a magnificent blue color that is a bit more rare to find in nature.
In fact, the pigment in it's wings aren't even actual blue at all!
What creates the color is due to the microscopic scales,
that overlaps in a way that makes the scales reflect light,
and pigments all around. This is a type of structural color.
The only issue with such a striking blue is the risk of attracting predators.
This is when the butterfly can protect itself from either through camouflage,
of their brown underside, or by releasing a pervasive smell through it's front legs.
The Euglossa analis is a type of Orchid bee. One of the hundreds species of this kind of bee.
The males collect fragrance from their

environment

to create their own complex bouquet of fragrance.
With their own personal

cologne

, they spread it around to attract females. To them, the scent is all that matters!

Optional Personality:

This

Annie

boy is very fond of a subtle, feminine look and he loves to spend his day playing with makeup.
Not so surprisingly he's very good at attracting attention from his fellow Annies.
A very charming and romantic boy with many aces up his sleeve!
He wears a poncho to protect him from the tropical rain,
and goggles to protect his eyes when he flies around with his huge wings.
Although it may look conflicting with two different types of wings,
it's actually very convenient due to his size!
It makes it easier to use because of the wings being a bit fragile.
What matters most to him is his passion of collecting flowers to create his own perfumes.
With this he can make a living, while being free and roaming around the forests.
With the flowers, he makes everything from wonderful scents to the most foul ones.
The stinky perfumes can even be used as a weapon due to their distinct smell!
AUCTION STARTS AT 180$
SB: 180$
Min Increase: 5$
AB: 450$
Auction ends after 24H after last bid.
Image details
Image size
2000x1912px 3.2 MB