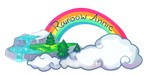 To take part of our lovely community, please join our
Discord!
By purchasing an Annie you agree to the
ToS.

Read more about the event here! ♥

DESIGNER

How many Blessings: 1
Rarity: Common
Eyes: Common round
Description of blessings and Annie:
Myosotis sylvatica
,
The forget-me-not
is a plant of the family of the Boraginaceae,
that is characterized for being hairy and also for having leaves of basal type.
In addition to this, this plant of European origin also has features on its leaves of small size and also lanceolate shape.
It should be noted that the forget-me-not plant blooms in summer as well as in spring.
It's flowers are small and varied colors. The most common flower of this plant is blue,
but it can also be in pink or white.
The forget-me-not flower has a meaning of sincerity in love.
In this same way you can also take it as a flower that speaks of restlessness for an unrequited love.

Optional Personality:


This Annie has a very elegant and sweet yet sensual design,
with blue tones that stand out and give out adorable gentle aura.
Her beautiful decorations in her hair are from her blessing, Sylvatic Myosotis,
which is also commonly known as the
"forget-me-not"
flower.
This flower has a meaning of sincerity in love and fidelity.
Her skin-tight dress flares out at her hips, with a long open-cut skirt.
The skirt is bright blue gradient color, that gives a sense of elegance,
while enhancing the beauty of the design a the same time.
Both legs feature different accessories like ribbons and a bows!
Her beautiful blue pearls throughout the outfit truly match the dress and add to her classy look.

She is a very sweet, adorable girl, slightly shy but kind.
She believes in true love and fidelity,
and is always looking for her true love.
She exudes pure intentions and would never intentionally hurt anyone or anything. ♡
AUCTION STARTS AT 140$
SB: 140$
Min Increase: 5$
AB: 300$
Auction ends after 24H after last bid.
Image details
Image size
2503x3035px 4.82 MB