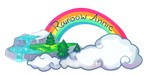 To take part of our lovely community, please join our
Discord!
By purchasing an Annie you agree to the
ToS.

Read more about the event here! ♥

DESIGNER

How many Blessings: 2
Rarity: Mythical
Eyes: Super rare rainbow gradient eyes
Description of blessings and Annie:
Wagyl
or
Rainbow Serpent
is seen as God of creation!
Often depicted in art and religion of Australian Aboriginals.
The wonderful holographic colors of the dragon like snake is believed to represent the cycle of the seasons,
and the importance of water needed in human life. It is said when you see a rainbow in the sky,
Wagyl gracefully moves from one watering hole to another, through casting a rainbow to travel in,
and this is the reason why some waterholes never dries up during a drought. The Rainbow Serpent,
is one of the oldest continuing religious beliefs in the world and is still to this day a cultural influence.
Bonica 82 is a Floribunda type of garden rose, which is a

modern

crossbreed,
between Hybrid tea roses & Polyantha roses.
As the name hints at, this
particular
breed came to be in
1982
in France,
and has been inducted to the Rose Hall of Fame by the World Federation of Rose Societies.
Counting the Bonica,
there are only
16
roses in the Hall of Fame making it a very prestigious rose.
It blooms in a warm pink color that fades in a pastel white pink over time,
and it has a faint smell of raspberry to it. It is very hardy and resilient,
making it survive in climates more delicate roses can not.

Optional Personality:

Creating rainbows in the sky to left & right, is a beautiful sight to behold.
As well as her personal travel portals. This makes it possible for the winged Serpent to travel through Aster on a remarkable speed,
and end up on different locations in an instant! This encourages her to explore the world, share knowledge and love to all beings!
Due to her Wagyl blessing, she can turn any blessing or part of her into a great variety of colours, which is she takes advantage off,
to match her roses to any outfit she wears! ♥
AUCTION STARTS AT 300$
SB: 300$
Min Increase: 5$
AB: 800$
Auction ends after 24H after last bid.
Image details
Image size
5400x4935px 16.8 MB