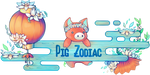 To take part in our lovely community, please join our Discord!
By purchasing an Annie you agree to the
ToS
.

DESIGNER

Day 6


Blessing Names: Common Warthog | Lantana flower
How Many Blessings: 2
Rarity: Super rare
Eyes: Super rare glowing flower pupils
Description of Blessings and Annie:
Common warthog is the bigger relative of the Desert Warthog,
who both are the only species of Warthog!
They have big tusks that grows upwards in a curve and can inflict severe damage to other hogs through
combat by flinching their head in a uppercut. With a mane only around their head and no long fur, little
body fat,
it is specialized to handle heat well. And while it is a formidable force of power, their greatest
strength is actually their high speed sprint up to 48km/h (30mph), which is faster than any human!
As a trivia, they have a symbiosis relationship with Banded Mongooses and Vervet Monkeys.
While they clean the Warthog from pests, gaining food, the Warthog let them be under their
Lantana Flower, a beautiful cluster growing flower that sometimes are mistaken for Hydrangeas,
thrive in the warm regions of the world. As the flower Matures, it usually gets several variation of
colours on it's bush, creating a marvelous display. Due to being poisonous, and not eaten by
herbivores, it is able to spread easily. As well, their fruit is well beloved by birds which helps
Cold hearted, stern and strong. She is a powerhouse to be reckoned with. Very keen on beauty
and Excelling in wind magic,
she rarely walks on her own two feet, to make sure they stay as
soft as possible. But do not be fooled, if she ever comes of her staff, she is most likely faster
than you. Just like her Warthog blessing, she proudly displays her tusks as a warning and symbol
to not get
too close. You have been warned.
AUCTION STARTS AT $350
SB: $350
Min Increase: $5
AB: $750
AB2: 950$


Auction ends after 24H after the last bid.


[AB2 includes a base coloured reference sheet]
Image details
Image size
4812x4328px 9.18 MB