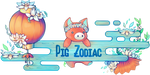 To take part in our lovely community, please join our Discord!
By purchasing an Annie you agree to the
ToS
.

DESIGNER

Day 2


Blessing Names:
Hereford Pig
How Many Blessings: 1
Rarity: Common
Eyes: Common round pupils
Description of Blessings and Annie:
The Hereford, often called the Hereford Hog, is known for its unique red-brown
and white coloration that resembles Hereford cattle, red, with a white face.
They are considered quiet and docile for a breed. A cross between Duroc Pig
and Poland China, Hereford emerged! It is known as the most attractive hog
there is, with it's white feet, face and occasionally bellies. The have droopy
ears and a cute face! And are known to be a pure breed, a heritage breed,
Optional Personality:
An energetic waitress ready to take on any orders ★☆! Applied for work
precisely to be near food, she tries her best to fight with the temptation
every day to get the job done. But at times, something's missing in the order ..!?
"Surely just a piece won't hurt... right!?"
AUCTION STARTS AT $180
SB: $180
Min Increase: $5
AB: $400
AB2: 600$


Auction ends after 24H after the last bid.
Image details
Image size
3000x2800px 5.77 MB