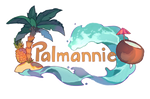 To take part of our lovely community, please join our
Discord!
By purchasing an Annie you agree to the
ToS.

Read more about the event here! ♥

DESIGNER

How many Blessings: 4
Rarity: Mythical
Eyes: Super rare lemon pattern glowing pupils
Description of blessings and Annie:
The Lisbon lemon is a common type of sold lemons in grocery stores,
popular for being very acidic and easy to cook with.
This lemon tree can produce fruit up to twice a year,
and does not have many seeds.
The distinction from other species of lemon,
is the slightly pointed end of the Lisbon,
that gives it that classic lemon look!
Valencia oranges are known for the sweet taste,
and vibrant color they have.
It is the only orange known to have a harvest season during the summer,
making it perfect to eat on tropical sunny days.
It is a newer type of orange,
developed only in the mid 20th century,
and gained traction for being highly resilient to pests.
It can grow to have a hefty diameter of 3 inches
(76mm)
,
and is very high in vitamin C thus good for health!
Smooth Cayenne Pineapples are very sweet and sugary,
and have low fiber. They're very popular,
as they accounts for around 90% of the world's canned fruit!
It has a yellow-orange juicy center and is not as acidic as most other pineapple varieties.
Be careful though, this lovely species is delicate and does not do well traveling!
The Cavendish banana has a long slender shape,
that differentiates it from other banana species.
In the early 2000's, it accounted for half of banana production due to its disease resilience.
The Cavendish banana is also used for all sorts of dishes,
from baking to fruity desserts like fruit salads.
When unripe, they are green until they mature,
into a warm yellow color with a firm but sweet fleshy inside.
Optional Personality:

Sugar and spice, and everything nice---
together this makes----
THE PERFECT SMOOTHIES & JUICES!

Come and enjoy a huge assortment of Vitamin A to D!
She will do anything to make sure you all get what you need!
Feeling sick? HAVE A LEMON!
Feeling hungry, heres your BANANA!
Feeling hot and bothered at her deliciousness?
NOT TO WORRY! She has giant Leaves to fan you off!

Just relax and she got you. ♥

Also please tell her she is smart.
She does not wear monocle for nothing ohoho~


AUCTION STARTS AT 200$
SB: 300$
Min Increase: 5$
AB: 800$
Auction ends after 24H after last bid.
Image details
Image size
3277x3099px 8.99 MB