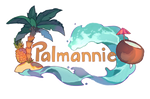 To take part of our lovely community, please join our
Discord!
By purchasing an Annie you agree to the
ToS.

Read more about the event here! ♥

DESIGNER

How many Blessings: 3
Rarity: Super rare
Eyes: Common round pupils
Description of blessings and Annie:
The Toco toucan bird is a very noisy, social bird whose call resembles a cross between a pig and a frog.
They live in groups or pairs and prefer quite open areas as opposed to dense rainforests.
Their wings may resemble that of a crow, yet are not great flyers,
hence why they are most often seen hopping from one tree to another.
The most memorable thing about the bird is, of course, the beak.
Not only is it the most colorful and unique part of their body,
it also acts as a body temperature regulator. Despite its size, it is lightweight due to its airy structure.

Commonly called coconut tree or coconut palm,
is a tree that is originally from the tropical islands in the western pacific.
These days it's planted in a variety of visible, warm parts of the world,
such as beaches, parks, along streets.
The palm itself is branchless and often curved and is classified into two types:
tall and dwarf. The palm is decorated with a beautiful, green crown of long pinnate leaves.
The fruit of the tree has it's famous coconut fruit, popularly used for cosmetic,
cooking and soaps. Coconut is also claimed to be a superfood, but this is not necessarily true.
The market has research to back up on, however this research is tested on animals,
so we don't know fully how it affects humans. It's high in saturated fats so it is to be used with caution.
However, Drinking coconut water is great for your health.
It's good for your kidneys, your hair, skin,
dehydration and against dehydration and digestive issues due to the potassium.
It's also full with magnesium, calcium, antioxidants, L-arginine, B-vitamins and minerals!
The evergreen Mangifera indica mango tree is the oldest cultivated fruit tree in history.
It is mostly planted for its sweet fleshy fruits, however can also be used decoratively.
The curly branches are crowded with lush green leaves and ornamented with brightly colored fruit.
While lesser known for their medical uses,
the fruits are packed with vitamins that can benefit your eyesight and boost your immune system.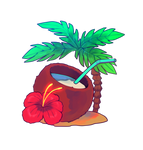 Optional Personality:

This Annie doesn't like drama and prefer to take it easy.
However if you make her angry she might lecture you in a not so charming voice,
kinda similar to that of a frog. Adorned in colorful clothing, she also wear with a hat with pinnate leaves,
made from a coconut tree. She also loves being around a lot of people!
Although being light weighted, she isn't very good at flying,
instead she's using her wings to jump more efficiently!
She is also very passionate with teaching about health and what benefits certain fruits have on the body.
Therefore she is an advocate for natural foods.
AUCTION STARTS AT 200$
SB: 200$
Min Increase: 5$
AB: 600$
Auction ends after 24H after last bid.
Image details
Image size
3171x3100px 6.87 MB