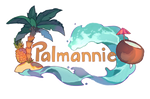 To take part of our lovely community, please join our
Discord!
By purchasing an Annie you agree to the
ToS.

Read more about the event here! ♥

DESIGNER
How many Blessings: 1
Rarity: Common
Eyes: Common round
Description of blessings and Annie:

The horned melon, also known as kiwano,
is a species of plant that belongs into the melon and cucumber family.
Covered with a thick orange-ish skin (which is very rich in vitamin C)
with horn-like spines, its flesh is of a beautiful lime green color with a refreshing jelly texture,
similar to a passionfruit or pomegranate. Its taste though is reported to be similar to cucumber and kiwi,
with a hint of banana when it fully ripens.

It is a traditional food in Africa and works as an excellent source of water during the dry season,
since it can be eaten at any stage. It may be eaten with sugar as a snack, on smoothies, yogurts...
or added onto the salad for a refreshing touch.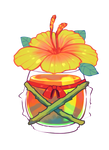 Optional Personality:

Nothing is loved more by this Annie than a warm,
Summer's day and a crisp, cool drink. She chooses to bask in the sunlight quite often,
keeping her hair tied up to ensure an even tan on her shoulders.
Like her uniquely spiky blessing, she may seem hard to approach,
but all who know her are pleasantly surprised by her ... "complexity."
AUCTION STARTS AT 140$
SB: 140$
Min Increase: 5$
AB: 300$
Auction ends after 24H after last bid.
Image details
Image size
2500x3300px 3.55 MB