THIS ANNIE WILL BE COMPLETED AT A LATER DATE.

[With new pose and drawn digitally]

Yamio is currently hospitalized since last week up to three weeks,
with no access to computer other than the weekends
Apologize for the delay! ♥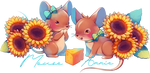 To take part in our lovely community, please join our Discord!
By purchasing an Annie you agree to the
ToS
.

DESIGNER

Day 3


Blessing Names: Pie-bald Fancy mouse
How Many Blessings: 1
Rarity: Common
Eyes: Common round
Description of Blessings and Annie:
Despite what you might think, the
Fancy mouse's
"fancy" actually means "hobby"!
While they're the same species as the common house mouse, the fancy mouse is special!
The fancy mouse is bred for exhibition to a community with a very defined picture of the
perfect mouse, with each breeder vying to catch the fancy of the judges with their
perfectly-groomed and bred mouse.
Outside of the show, they're quite energetic
and curious, running around and sniffing everything!
This headstrong Annie is filled with determination and ambition. She trains intensely
daily to hone her own body's physique to be able to be move it freely in any way she
wishes. Her cold demeanor can often been seen as
off-putting
but when you get closer
to her, you see she has a very dedicated love to those whom she is close.
AUCTION STARTS AT $180
SB: $180
Min Increase: $5
AB: $400
Auction ends after 24H after the last bid.

Calendar
Image details
Image size
1284x2560px 640.92 KB