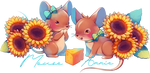 To take part in our lovely community, please join our Discord!
By purchasing an Annie you agree to the
ToS
.

DESIGNER
Day 12


Blessing Names:
Fancy White Mouse |
American Flamingo |
Cherry Blossom
How Many Blessings: 3
Rarity: Super Rare
Eyes:
Uncommon
Flower shaped pupils
Description of Blessings and Annie:
The Fancy White Mouse
is a domesticated form of the common house mouse, typically as a
pocket pet. Its name originates from it being selectively bred for exhibitions in international
shows. These shows are often associated from clubs such as AFRMA, FMBA, and NMC. They
typically grow up to about 5 - 8 cm from nose to tail length, and can sometimes weigh up to
130 grams at its largest size.
American Flamingo
, are one of the largest species of flamingo.
Found in the Caribbean
and along the northern coast of South America, these extraordinarily social birds live in
flocks that sometimes number in the thousands. A pigment in their food
gives their feathers
their flamboyant pink color. A flamingo's plumage is a distinctive pink color with black flight
feathers along the edges of the wings. It has a slender body and very long legs, a long, flexible
neck and a small head. The flamingo's bill has a characteristic downward bend. Compared with
its long legs, a flamingo's feet are relatively small. The front three toes are webbed, and the back
toe is either tiny or missing altogether. Flamingos walk easily and can run when threatened.
Cherry Blossom,
also known as sakura in Japan, are the small, delicate pink flowers produced
by cherry blossom trees. The springtime bloom is a lavish spectacle but remarkably brief; after
only two weeks, they drop to the ground and wither, falling like snow with the ebb and flow of
the winds. As flowers native to Asia, they can also be found in China, South Korea and India,
but today they enjoy worldwide blooming. Cherry Blossom have therefore always signaled as
the beginning of spring, a time of renewal and optimism. When cherry blossoms are in full bloom,
the future is bursting with possibilities.
This gentle soul is, despite her soft appearance, a force to be reckoned with.
Being an immensely powerful Annie, there is little she fears. And she loves to
take a walk through her neighborhood and spread around her growing cherry
blossoms to make the environment more pink and friendly. She is a firm believer
of making the world a better place than it was the day before.
AUCTION STARTS AT $350
SB: $350
Min Increase: $5
AB: $750
Image details
Image size
2893x3000px 8.58 MB