This Annie is up for co-ownership on the market!
Annie Market [11 up]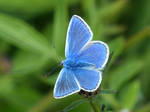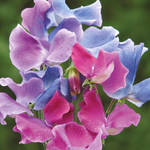 Blessing names:
Sweet peas|Palos Verdes Blue
How many Blessings:
2
Raritiy:
Uncommon
Eyes:
Common
Description of blessings and Annie:

The Palos Verde Blue Butterfly is the rarest butterfly in the world, thought to be extinct for many decades.
The larvae of this butterfly secrete a sweet substance that attracts ants.
The ants eat the substance and in exchange protect the vulnerable larvae from other insects.
They are found only in foggy locations, as the plants they rely on only grow in foggy habitats.
Sweet peas are a climbing plant with a great flowering capacity and pretty easy to farm since they can grow rather fast and up to 1-2 meters!
It was very used on the Victorian Era due to the many different colors their flowers can be: pink, blue, purplish, orange... the petals can even be two-toned.
People use this flower to both get rid of annoying insects and to fill a room with the sweet scent of sweat peas~
They're well know as the birth flower of April. And they can all mean delicate, goodbye and thank you for the lovely time.
Though not everything is nice about this plant, its seeds are toxic and can be really harmful to your health if you eat too many of them.
Who knows if the toxicity from the sweet peas seeds played an important role in this Annie's first life stages. There are rumors of her having a rough childhood,
but nobody quite knows as she puts on a face of being ok all the time.
She wears fluffy yet bold clothes not only as a nod to the foggy environments her blessing dwells in,
but also to help create a safe atmosphere for those around her who feel both protected and comforted by a strong Annie as kind-hearted as her.
And just like the sweet peas scent repels annoying insects, she has the ability to help others fix their bad habits.
In general she is quite well-mannered, occasionally even being too polite in her language and greetings to others.
She makes others feel comfortable around her with kind and genuine words, and as a result many want to give back and help her with her struggles.
AUCTION STARTS AT 100$.SB:
100$
Min Increase:
5$
AB:
700$
Auction end after 72H.
To take part of our lovely community, please join our Discord!
Image details
Image size
803x900px 893.75 KB