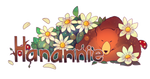 To take part of our lovely community, please join our
Discord!
By purchasing an Annie you agree to the
ToS.

Read more about the event here! ♥

DESIGNER

How many Blessings: 2
Rarity: Uncommon
Eyes: Uncommon flower shaped pupils
Description of blessings and Annie:
Moon Bear
(Asian black bear) is known for its deep ebony fur and a white crest on its chest, where it got its name.
Though they are mostly herbivorous, they are capable of aggression towards humans who especially hunted them,
for their fur and its body parts said to be used for traditional medicine.
White Moonflower
(night-blooming cereus) is a unique flower. It is known for it's ephemeral beauty and for its short life.
They only bloom once a year and for a single night, before wilting away into the darkness never for its blossom to experience the warm sunlight during its lifetime.
Optional Personality:

There is a pirate who braved the dark seas, calling himself the
"Lunar Marauder"
as he told his tale filled with danger and adventure.
With his crew he raided through the night, instilling fear to those who bear witness. Though despite his crimes,
he only came after the corrupt and wicked who deserve to be hacked by his ferocious claws.
AUCTION STARTS AT 180$
SB: 180$
Min Increase: 5$
AB: 450$
Auction ends after 24H after last bid.
Image details
Image size
833x1000px 824.13 KB