Description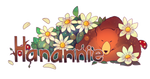 To take part of our lovely community, please join our
Discord!
By purchasing an Annie you agree to the
ToS.

Read more about the event here! ♥

DESIGNER
How many Blessings: 1
Rarity: Common
Eyes: Common round
Description of blessings and Annie:
The eastern black bear is a medium-sized bear, is way smaller than than the polar or the brown bear.
Although it's name might make you presume the colour of his fur, they can actually be found in a wide variety of black,
brownish and even blond tones. They don't 'properly' hibernate but rather they enter a state of somnolence,
therefore they can still react if it's being attacked by another animal.
Their heart rate and body temperature drop down and are kept alive thanks to all the fat they gathered along Autumn.
They're omnivores, although their actual diet pretty much consists of vegetables only.
Black bears can stand up on their feet and they are also amazing swimmers!
Their sight isn't the best but they are one of the most intelligent mammals,
hence why they are often found on circuses performing various types of tricks.
Except when they're on heat or taking care of their bear cubs, they're usually seen alone.
They generally go out during daytime unless they're near a very crowded place,
in those cases they are most likely to wait until night falls to go out in search of food, avoiding humans.
Optional Personality:

Although quite shy among other Annies,
the eastern black bear Annie tends to spend most of his time throwing picnic parties alongside his little teddy bear friends.
Softhearted and kind he enjoys the company of other woodland creatures despite his quiet nature.
Picnic tea parties are his specialty
, and if any Annie happens to be strolling through the woods,
they might happen upon a party of brightly coloured balloons and checkered blankets.
His favourite hat resembles that of a strawberry, while his hair clip and buckles look alike that of bright yellow honeycombs;
resembling his favourite snacks to share at picnics. At his heels trots his best friends Do, Re, and Mi!
A little family of teddy bears that follows him to wherever the next adventure may be~!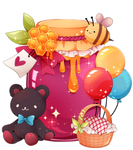 AUCTION STARTS AT 140$
SB: 140$
Min Increase: 5$
AB: 300$
Auction ends after 24H after last bid.
Image details
Image size
720x900px 714.14 KB