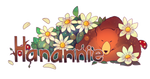 To take part of our lovely community, please join our
Discord!
By purchasing an Annie you agree to the
ToS.

Read more about the event here! ♥

DESIGNER

How many Blessings: 1
Rarity: Common
Eyes: Common round
Description of blessings and Annie:
The Binturong, also called Bearcat, is a medium-sized carnivore that is found inhabiting the dense forests of South-East Asia.
It is a large, heavy animal that can grow to more than a meter long from their snout to the tip of their tail.
The Bearcat is a generally solitary and nocturnal Animal that spends the majority of its time moving about slowly and cautiously amongst the trees.
Despite belonging to the carnivorous mammal group, the Binturong is mainly frugivorous meaning that it survives primarily on a diet that is comprised of fruit.
This tree-dwelling mammal is actually known to be startlingly passive towards people and has been easily domesticated and kept as an exotic pet all over the world.
AUCTION STARTS AT 140$
SB: 140$
Min Increase: 5$
AB: 300$
Auction ends after 24H after last bid.
Image details
Image size
1463x1872px 3.17 MB