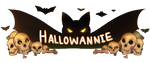 Hallowannie 2019 Calendar
To take part of our lovely community, please join our
Discord!
By purchasing an Annie you agree to the
ToS.

Read more about the event here! ♥

How many Blessings: 3
Rarity: Super rare
Eyes:
Super Rare Glowing dragon eye pupils
Description of blessings and Annie:

Deep Sea Dragonfish (Grammatostomias flagellibarba) are small
creatures which live in the deepest, darkest recesses of the ocean.
They produces their own light by bioluminescent photopores.
These photopores are located in lines of dots along their bodies,
at the end of a long protrusion on its chin, and on each cheek.
The lights are used to confuse and lure prey towards the dragonfish,
which we will not be neglected to mention, have massive, terrifying teeth.

Black Flying Foxes (Pteropus alecto) are one of the largest bat species,
with a wingspan of over 1 metre (~3.3 feet).
They are found in Australia, Papua New Guinea, and Indonesia,
living in colonies of possibly hundreds to thousands
(imagine the fright of seeing them all awake and about at night)!
As opposed to stereotypes, these bats do not live in caves.
They choose to rest in forests, mangroves, and swamps, while munching
on tasty fruits and tree bark.

Dragon Blood Trees (Dracaena cinnabari) is a species of large succulent found only in the
Socotra archipegalo of Yemen, an interesting island where
37% of its plant species occur nowhere else on Earth.
Its most prominent visual feature is its large, dense top,
shaped like an umbrella, and its winding branches
(which reduce evaporation, letting it thrive in arid conditions with low amounts of soil).
It gets its name from the bright red sap that it exudes.
Its sap has been used for many years in toothpaste, dye, paint, incense,
varnish, and even ritual magic and alchemy.


Optional Personality:


This Annie blessed by the Earth, sea, and sky.
She has the tail and luminescence of the dangerous dragonfish,
the massive wings of the black flying fox, and knotted branch horns of the dragon blood tree.
She holds great power within her!
She is fairly recluse and spends a lot of time doing secretive and mysterious things.
She only spends time awake at night, basking in the cool air and moonlight,
and perhaps partaking in magic and strange alchemic practices.
She is often followed around by spirit-guided lanterns and orbs that she created.
EXTRA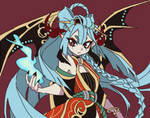 AUCTION STARTS AT 200$
SB: 200$
Min Increase: 5$
AB: 600$
Auction ends after 24H after last bid.
Image details
Image size
3344x3000px 9.18 MB