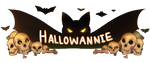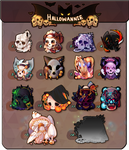 To take part of our lovely community, please join our
Discord!
By purchasing an Annie you agree to the
ToS.

Read more about the event here! ♥

How many Blessings: 1
Rarity: Uncommon
Eyes: Uncommon Spiral pupils
Description of blessings and Annie:

Field pumpkins
are a staple of the fall season, specifically during the month of October to celebrate Halloween!!
They're often carved into jack o lanterns and placed outside homes as decoration!
While pumpkins are also known as a popular flavor during this time of year,
the name is actually a bit misleading, as squash is more commonly used in things like pumpkin pie!

Optional Personality:


This Annie is very mysterious, her eyes constantly shaded by the brim of her hat.
She gives off a very intimidating vibe, making many fearful to approach her.
Her kimono is decorated with pumpkins, and her spiralling witch hat, resembling pumpkin stem,
is adorned with orange lanterns, to show her deep connection to her blessing.
AUCTION STARTS AT 180$
SB: 180$
Min Increase: 5$
AB: 450$
Auction ends after 24H after last bid.
Image details
Image size
2344x3202px 2.46 MB