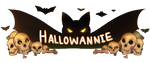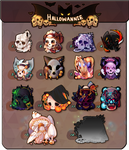 To take part of our lovely community, please join our
Discord!
By purchasing an Annie you agree to the
ToS.

Read more about the event here! ♥

How many Blessings: 1
Rarity: Common
Eyes: Common Round
Description of blessings and Annie:
The Scarlet-rumped Tanager
is your average bird with an ever eye-catching...
you called it; an eye-catching scarlet rump.
It has a velvety coat of black feathers aside from its bright colored rump,
gleaming ever so lightly against sunlight.
They're a species that are usually found along open habitats,
most specially woodland edges, gardens, and pastures, often flocking together with other birds.
They have a certain fondness for small fruits, often swallowing them whole,
along with small insects such as spiders and ants.

Optional Personality:

A handsome, confident young man—with a proud smirk ever always etched upon his lips,
he'll flutter his way into your heart and steal it with smooth words over a deep, soothing voice,
promising to never return it.
He's an entertainer—a people pleaser for the sake of earning fame and tossing away those he used once he's at the top.
He's the type to say the right words that someone would want to hear,
and not what he wants to say, ever the clever, sly individual that he is.
Anything, to get on someone's side.
Always planning ahead, he's sure to be at least ten steps forward.
Competition is a mere child's play to him, and he makes sure to always come out on top, no matter the means of getting to it.
EXTRA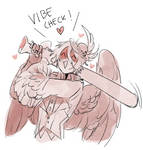 AUCTION STARTS AT 140$
SB: 140$
Min Increase: 5$
AB: 300$
Auction ends after 24H after last bid.
Image details
Image size
1300x1500px 1.1 MB