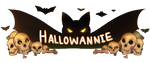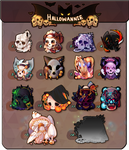 To take part of our lovely community, please join our
Discord!
By purchasing an Annie you agree to the
ToS.

Read more about the event here! ♥

How many Blessings: 1
Rarity: Common
Eyes: Common Round
Description of blessings and Annie:
Bulbophyllum Longissimum
is an orchid. These flowers like lowlands,
and like to grows in warm but humid places.
Usually this plant can be seen in Southeast Asia.
Bulbophyllum unpretentious to light, ad they always grow in groups of 7-8 flowers!
They are rather small but very long. Despite the frightening appearance, these aren't poisonous.

Optional Personality:

This spooky Annie is inspired by the undead. She takes great interest in horror stories and death,
and even does taxidermy as a hobby. Her black sclera and outfit exaggerate this interest,
along with the rotting flowers on her clothes and ruffles that look like they're decaying.
She has clusters of her orchid blessing on her dress and headpiece, and gold details all over.
If she sits still, she's often mistaken for a corpse, which has frightened many around her.
She's amused by the rumors that she's a dead woman walking, but doesn't dispel them...
could it be possible these rumours are true?
AUCTION STARTS AT 140$
SB: 140$
Min Increase: 5$
AB: 300$
Auction ends after 24H after last bid.
Image details
Image size
3060x3188px 8.23 MB