Description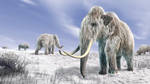 Blessing names:
Woolly
Mammoth
How many Blessings:
1
Rarities:
Super Rare
Eyes:
Super Rare glowing crescent tusk shape
About:


Woolly Mammoth is well known for their large impressive tusks. Used to impress one and another, but also to fend of predators, such as the Sabertooth tiger and the humans.
Thick fur to protect itself from the cold. Small ears and trunk to avoid frostbite, but a long stature, it was truly a sight to behold.
Humans however, sadly depended a lot on the Woolly Mammoth for it's skin, tusks and meat.
To cook, make art, clothes and build with. It is thanks to this Mammoth humans survived in the frozen landscapes.
But to the cost of it's species life and legacy.

This grandiose Annie has her large tusks at display so often that she even has her hair style accustomed to them!
With the great connection she has, she easily gain extra fat and warmth to keep her from freezing.
Practicing magic and doing what she can to teach people about the animal that once used to be.

To take part of our lovely community, please join our Discord!
Image size
1031x1001px 1.01 MB