To take part of our lovely community, please join our Discord!
By purchasing an Annie you agree to the ToS.
Read more about the event here! ♥


Blessing Name: Anna's Leucistic Hummingbird | Scarlet Begonias | Whooper Swan
How Many Blessings: 3
Rarity: Super Rare
Eyes: Common Round

Description of Blessings and Annie:
The Scarlet Begonia is a popular flower with bright vibrant red coloring.
They symbolize romance, love and attraction. They can also stand for harmony and serenity.
This flower is perfect for people who want that special elegant touch, and are very popular as ornamental foliage.

Whooper Swans are a common swan that lives around Eurasia.
They are admired in Europe for their elegance and even protected under a water bird law.
They are one of the heaviest of flying birds, who are extremely vocal and have a distinct call.
An interesting fact is that they need a large body of water to live in when they are youth,
because their legs are not strong enough to support their bodies.

The Leucistic Anna's Hummingbird is a rare type of white hummingbird.
Leucism is a type of pigment disorder that creates a loss of pigmentation,
but it is not albinism because they can produce melanin everywhere but their feathers.
Due to this, they is seen as mysterious and exciting to bird spotters!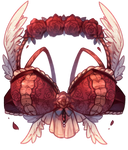 Optional Personality:
This lovely Annie has the expression of an innocent puppy ♥
Although she looks shy, she is very eager for love and friendship.
With her red vibrant flowers, she's the epitome of romance and passion!
She loves to use her Hummingbird hip wings just to float, and her Swan wings to fly long distances.
Her extremely long veil and hair trails behind her, and flower petals fall from her every time she moves ♥


AUCTION STARTS AT 350$
SB: 350$
Min Increase: 5$
AB: 750$
Auction ends after 24H after last bid.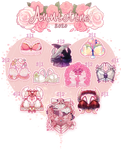 Image details
Image size
3650x3785px 10.33 MB