To take part of our lovely community, please join our Discord!
By purchasing an Annie you agree to the ToS.
Read more about the event here! ♥


Blessing Name: Angelica
How Many Blessings: 1
Rarity: Common
Eyes: Common, Round

Description of Blessings and Annie:
This beautiful Annie is blessed by Angelicas.
Soft and innocent looking flowers that let your stress,
and worries fly away just by looking at them.
Presenting a bouquet brimming with Angelica blooms,
to a loved one is said to encourage feelings of creativeness.
These flowers are a great option to give to those who have a heavy workload,
or busy home life to contend to,
as they act as a stress reliever and encourage restfulness.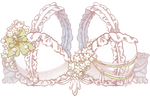 Optional Personality:
Coming home from a stressful work day,
this graceful looking Annie is there to welcome you.
A caring and calm personality with lots of love to give you.
She will await you with a cup of tea and a filled hot bath in the bathroom.
For her there is nothing more important than your well-being. Everything else can wait. ~
AUCTION STARTS AT 180$
SB: 180$
Min Increase: 5$
AB: 400$
Auction ends after 24H after last bid.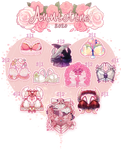 Image details
Image size
2644x3188px 5.37 MB