To take part of our lovely community, please join our Discord!
By purchasing an Annie you agree to the ToS.
Read more about the event here! ♥


Blessing Name: Wooly Thyme
How Many Blessings: 1
Rarity: Common
Eyes: Common, Round

Description of Blessings and Annie:
Wooly thyme (
Thymus pseudolanuginosus
) is a dense, ground-covering herb,
with a silvery appearance due to its small, hairy leaves.
It is a fantastic ornamental garden plant,
since it creeps and cascades several inches as it grows, and is resilient in hot and dry climates.
It can easily be grown between stepping stones, since they can withstand a bit of pressure from foot traffic.
They also release a nice faint smell when stepped on/crushed.
It also has culinary uses. Patches of woolly thyme,
may also grow tiny pink tubular flowers in the summer, but supposedly they rarely flower in general.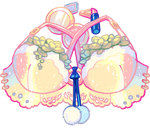 Optional Personality:
This Annie is vain and self-centered, and doesn't have much interest in spending time with others.
Instead, she spends her days with her true love: herself.
She is a perfectionist,
spending many hours a day grooming to her highest standards.
This Annie is the epitome of self-love, and although sometimes,
her confidence may be over the top,
she knows and loves herself as is.
She does not seek anyone else's approval.
AUCTION STARTS AT 180$
SB: 180$
Min Increase: 5$
AB: 400$
Auction ends after 24H after last bid.
Image details
Image size
2442x2554px 9.89 MB