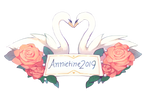 To take part of our lovely community, please join our Discord!
By purchasing an Annie you agree to the
ToS.

Read more about the event here! ♥

DESIGNER

How many Blessings: 1
Rarity: Common
Eyes: Common
Description of blessings and Annie:

This Annie is blessed by a stunning betta fish (
Betta splendens)
! Betta come in many different colors and variations,
and this pink beauty takes on the halfmoon and dumbo features which affect the tail and head fins respectively.
Betta are also known as "fighting fish" in many places, which comes from the 1800s in Asia where there were actually betting matches dedicated to the sparring fish.
They are territorial fish who would rather be alone, but a domestic betta can find companionship with humans and even learn tricks!
In the wild, betta live in rice paddies and flood plains in Asia. They have evolved to be able to breathe oxygen,
to survive out of water for a short amount of time since their natural habitats were always changing due to storms.
The fish are also more dull in the wild and only show color when agitated.
Captive aquarium betta are far more flamboyant in fin size and color due to selective breeding, especially the males!
Optional Personality:

This Annie is adorned with so much pink! White pearls and bows accent her outfit to add a sweet touch to it.
Delicate lace patters add elegance and make her outfit nearly suitable for a pink bride ♥
The adorable lace bunches near her ears even mimic the flowing fins of the 'dumbo' variant of betta!
This Annie is a sweetheart and a little princess who loves pink, frills, lace, and pearls!
She always makes the effort to look beautiful and soft ♥
AUCTION STARTS AT 140$
SB: 140$
Min Increase: 5$
AB: 300$
Auction ends after 24H after last bid.
Image details
Image size
1700x1950px 2.27 MB