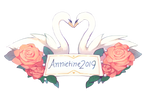 To take part of our lovely community, please join our Discord!
By purchasing an Annie you agree to the
ToS.

Read more about the event here! ♥

DESIGNER

How many Blessings: 1
Rarity: Common
Eyes: Common
Description of blessings and Annie:

The blaze rose is a hardy climbing rose widely used for a variety of gardens and entrances,
and best known for its persevering beauty throughout the seasons, as it cascades beautifully all over from early summer to fall.
It is a rose of three inches (8cm) wide and blooms in large clusters, crawling often horizontally unless made to bend a different direction.
Most rose aficionados would place these roses on many structures such as fences, walls, trellises, pillars, arches, porches, pergola and arbor.
It possesses a bright scarlet color which elegantly grows out on any surface it manages to latch on, creating a red sheet of lush roses that spreads like a blazing wild fire.
But underneath all that beauty is a thicket of thorns.

Optional Personality:
The Duchess of the Blazing Rose, a dainty lady of regal sophistication. She has a strong desire to surround herself with beautiful things,
may it be fresh roses, fancy clothing, or glistening gold. Though she may possess a sweet and innocent face that could do no harm,
do not be fooled as her very being is entwined in thorns that can pierce others who do not handle her with care. And just like any flower,
she is beautiful nurtured and groomed, but unlike just any other flower her love grows and wraps around anything or anyone till they choke.

AUCTION STARTS AT 140$
SB: 140$
Min Increase: 5$
AB: 300$
Auction ends after 24H after last bid.
Image details
Image size
857x1000px 1.2 MB