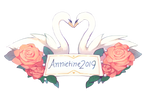 To take part of our lovely community, please join our Discord!
By purchasing an Annie you agree to the
ToS.

Read more about the event here! ♥

DESIGNER
How many Blessings: 1
Rarity: Common
Eyes: Common
Description of blessings and Annie:

Ermine
, also called stoat, northern weasel species in the genus
Mustela
, family Mustelidae.
The species is called
Ermine
especially during its winter white colour phase.

To the monarchs of medieval Europe, the ermine's white coat symbolized royalty and high status.
For it's unique coat ermine became popular character in different legend and folklore.

In the folklore of the
Komi people
of the
Urals
, stoats are symbolic of beautiful and coveted young women.

In the
Zoroastrian
religion, the stoat is considered a sacred animal, as its white winter coat represented purity.

One popular European legend had it that a white stoat would die before allowing its pure white coat to be besmirched.
When it was being chased by hunters, it would supposedly turn around and give itself up to the hunters rather than risk soiling itself!
Optional Personality:

This Annie likes to dress in luxurious manner. She can't imagine her clothes without bows, frills and buffy skirts!
Her puffy white hair has fairly dark ends representing a tail of an ermine itself.
Just as her blessing, this Annie is a pure and beautiful girl,
who likes to enjoy the bright sun in winter days and meet new friends!


AUCTION STARTS AT 140$
SB: 140$
Min Increase: 5$
AB: 300$
Auction ends after 24H after last bid.
Image details
Image size
1389x1354px 1.69 MB