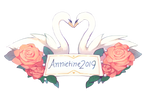 To take part of our lovely community, please join our Discord!
By purchasing an Annie you agree to the
ToS.

Read more about the event here! ♥

DESIGNER

How many Blessings: 1
Rarity: Common
Eyes: Common
Description of blessings and Annie:

Albatrosses are seabirds of large dimensions. They are highly efficient in the air,
using dynamic soaring and slope soaring to cover great distances with little exertion.
The black-browed albatross, which gets its name from the funny black feathers its got over the eyes,
is a medium-sized albatross but their wings are still huge. They can easily get to over 200cm (80 inches)!

Albatrosses live much longer than other birds; they delay breeding for longer and invest more effort into fewer young.
They reach sexual maturity slowly, at around the age of five, but even once they have reached maturity, they do not begin to breed for another few years.
Instead they spend many years practicing the elaborate breeding rituals and "dances". After a period of trial and error learning, the young birds learn the syntax and perfect the dances,
all to ensure they'll be able to properly communicate with their peers and finally find their perfect mate, which they'll be bond to for the rest of their lives,
and with whom they've created a unique body language to communicate with each other.

Optional Personality:

This Annie is a very busy woman, impelled by the nature of her blessing she's driven to travel all around the world to discover new places and cultures,
but that doesn't mean she's a fickle person. She knows her heart is destined to that special one and once she finds them,
she'll always make sure to make time for them in her tight schedule.
She won't doubt taking a +18 hours airship flight to get in time to the date.

Managing such a busy life can be hard sometimes, you never know when you'll have time to rest or which lands will you walk by.
A soft cotton summery dress allows her to move freely and not feel suffocated during long passages,
the elegant coat and high stocking serve for extra protection against the breeze and she can't forget a hat,
to make sure her hairstyle stay neat and her make-up well protected from the sunny rays.


AUCTION STARTS AT 140$
SB: 140$
Min Increase: 5$
AB: 300$
Auction ends after 24H after last bid.
Image details
Image size
1218x800px 661.84 KB