HAPPY VALENTINES DAY
Last Annie for this years Annietine,
hope you enjoyed it!
Thank you
♥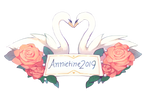 To take part of our lovely community, please join our
Discord!
By purchasing an Annie you agree to the
ToS.

Read more about the event here! ♥

DESIGNER

How many Blessings: 2
Rarity: Mythical
Eyes: Glowing bunny shaped pupils
Description of blessings and Annie:
Tu Er Shen.
Once upon a time a man fell in love. A forbidden love.
A warrior from the millitary who he just could not keep his eyes off got noticed.
But at this age and time, falling in love with the same sex was punishable by death.
The man refused to back down on his love, and such, was taken pity on by the Gods.
When he passed away, the Gods and Goddesses reincarnated him as a bunny spirit.
Guardian of the love he so ever yearned.
Protector of non requirement.

Field Mouse Ear.
One of the favourite foods of bunnies!
This sweet flower belongs to the pink flower family.
It is quite unique as it can grow either alone or in clusters, depending what it feels like.
Being quite a tall flower, you have to chew down the stems before you get to it's deliciousness.
It has five petals, all with two lobes on each. It also carries a small fruit that contains it's seeds.
Optional Personality:

This boys connection to his blessing is strong,
which makes him summon several different kind of bunny ears.
The mourning of his blessing affects him daily and it can become quite difficult to separate his own pain from his blessing.
As the tears flow, he collects them in tiny vials, such as his shoes or earrings, to keep around.
Because each drop of his tears are filled with all the love he was never able to give,
so by ingesting one, you can feel the feeling of being in love, and being loved.
A feeling he has never yet grasped on his own.


AUCTION STARTS AT 300$
SB: 300$
Min Increase: 5$
AB: 800$
Auction ends after 24H after last bid.
Image details
Image size
2134x2370px 4.09 MB