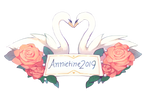 To take part of our lovely community, please join our Discord!
By purchasing an Annie you agree to the
ToS.

Read more about the event here! ♥

DESIGNER

How many Blessings: 3
Rarity: Super Rare
Eyes: Bleeding heart pupils
Description of blessings and Annie:

The bleeding heart, also called Lamprocapnos spectabilis is a plant with flowers that are beautifully shaped as hearts in the romantic color of pink.
It also has white drop-like parts on the bottom, making the flower look as if it is bleeding.
Bleeding hearts are very hardy and can survive for more than 2 years in the wild. It is also fire resistant and can tolerate drought.
It can be poisionous if eaten in large quantities for many animals, so it's not a flower you'd want too much of!
Cabbage Rose, or Rosa Centifolia is a type of rose, with petals that are bright pastel pink which is growing darker in the center.
The petals resemble the form of a lettuce, hence the name "Cabbage" rose.
In medicinal use, the root of the flower can be boiled in water which is then used to shrink or constrict body tissues.
The water is also used to treat irritations and moisturizing your skin while also healing it.
When converted to an it is useful in cleansing the exterior skin as it is high in Vitamin A, C and E.
Göttingen pig, also known as the Göttingen mini pig is a swine bred by humans that was originally meant for biomedical research.
They required less space and food, so that they would be easier to handle. Today it is the smallest type of domestic pig known in the world.
Later on they were also bred locally to be sold as pets, as their small size made them popular.
Optional Personality:


This Annie has incredibly clear, porcelain skin and is of pure royalty!

She is very rich and isn't afraid of showing it with her pure golden linings and silk fabric.
Being close to her Göttingen pig blessing, she appears petite with pig ears and feet, adorned in Cabbage roses.
She is incredibly in love with the color pink, and isn't afraid of showing that. She also likes white as it makes her feel more blinding.
Although being a petite Annie she has incredible power with healing tissues and can take on anything that comes her way!
Many do not believe it at first sight, so she feels the need to appear more powerful by dressing in pompous fashion, woven by her own dressmakers.
She is especially in love with romantic clothing, especially inspired by clothing found in weddings and in Victorian royalty!
AUCTION STARTS AT 180$
SB: 200$
Min Increase: 5$
AB: 600$
Auction ends after 24H after last bid.
Image details
Image size
2477x2172px 3.42 MB