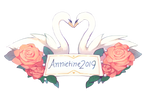 To take part of our lovely community, please join our Discord!
By purchasing an Annie you agree to the
ToS.

Read more about the event here! ♥

DESIGNER
How many Blessings: 2
Rarity: Uncommon
Eyes:
Common Pupils
Description of blessings and Annie:

The saffron flower is best known for producing the spice
saffron
from filaments that grow inside the flower.
Human cultivation of saffron crocus and use of saffron have taken place for more than 3,500 years,
and spans different cultures, continents, and civilizations.
Each blossom typically contains only three stamens,
so gathering any substantial amount of the spice was a laborious and expensive exercise.
Although saffron was - and still is - used in many cuisines, it was also used to create a rich golden-yellow coloring dye,
which lends symbolism in various cultures. In Europe,
saffron was used by the rich due to the spice's high cost and was thus associated with royalty and nobility.
The golden coloring was a symbol of the sun. In India and other parts of Asia,
saffron took on additional meanings. Saffron is one of the colors of the Indian independence flag,
indicating the strength and courage of the country.

Saffron is also one of the most sacred colors in Hinduism.
It represents the fire which burns impurities and thus,
the color symbolizes purity and freshness.
It is the color of those who are holy and have renounced the world.
Wearing the color symbolizes a quest for light.
Saffron was often worn by the Rajputs, the warrior Hindu caste also known as Sun Worshippers,
as a battle color. In modern day, saffron is additionally used to flavor food,
and is researched as a possible therapy for cancer.

Alyogyne huegelii is a flowering plant found in Western Australia, extending along the coastline.
A large flowered shrub, the species favors the sands of coastal shrublands and heath.
The large flower is commonly named Lilac Hibiscus. It is widely cultivated as a flowering plant for the garden.
Blue hibiscus flowers are rare to be found and look exotic in shape and color.
Hibiscus in general symbolizes delicate beauty while the blue variety symbolizes depth, infinity, serenity, fertility,
and immeasurable splendor. This is considered a very feminine flower and so is usually given or worn by women.
In North (A)merica, a hibiscus means a perfect wife or woman. In Victorian times,
giving a hibiscus meant that the giver was acknowledging the receiver's delicate beauty.
In (C)hina, hibiscuses symbolize the fleeting and beauty of fame or personal glory.
It is given to both men and women. Hibiscus is often used for decorative purposes and adds great beauty to gardens.
In (I)ndia, hibiscus is often used as an offering during worship and is also used as an ingredient in hair care.
Optional Personality:

With the beauty rivaling the Seven Wonders of the World,
this Annie carries herself with grace.
She adorns herself in elaborate fabric and accessories which show off her blessing.
She is proud of her identity. She is graceful, respectful, and powerful in her presence.
She carries with her history and stories of honor and valor and is known for her exceptional beauty and strong sense of justice.
She is the pride of her town and maintains her honor and dignity in every action she takes.
AUCTION STARTS AT 180$
SB: 180$
Min Increase: 5$
AB: 450$
Auction ends after 24H after last bid.
Image details
Image size
1420x1600px 2.05 MB