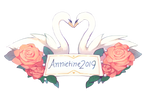 To take part of our lovely community, please join our Discord!
By purchasing an Annie you agree to the
ToS.

Read more about the event here! ♥

DESIGNER

How many Blessings: 2
Rarity: Uncommon
Eyes: Uncommon Cherry petal shaped pupil
Description of blessings and Annie:

The Raccoon, also known as the common Raccoon, is a hardy medium-sized mammal,
which can be commonly found around the world,
due to
the deliberate introduction to new environments by humans.
It's very hard to find an albino racoon out in the wild though,
since their albinism causes them to lose their brown coat
which helps them stay hidden from predators.
Somei Yoshino, also known as the Yoshino cherry,
is one of the most widely cultivated sakura flowers.
This particular cherry is cultivated by grafting -
most of them are clones of a single original Yoshino cherry tree.
New leaves only start growing after the sakura flowers bloom,
allowing you to enjoy a tree full of sakura flowers!
This Annie sports the soft pastels that her
albino raccoon blessing and the Somei Yoshino offers.
The red of the string of fate and her passion for love bubbles through
in splashes of red in her outfit!
Optional Personality:

Dreaming about true love, this Annie can often be seen
crafting love letters,
and shopping for the latest cute accessories to level up her charm.
Reading large amounts of romance novels,
she spends a lot of time learning about love and dating
in order to craft out the ultimate confession to her senpai.
There's only one problem though - her senpai is 2D!
AUCTION STARTS AT 180$
SB: 180$
Min Increase: 5$
AB: 450$
Auction ends after 24H after last bid.
Image details
Image size
600x738px 574.42 KB